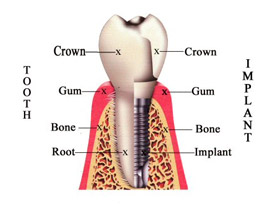 The closest thing to your own teeth!
At iSmile Dental Associates in Peabody, we are proud to offer our patients over 25 years of combined experience in dental implants and dental surgery. Dr. Aram Sirakian is a renowned specialist in implant dentistry and prosthodontics, and Dr. Gabriel Boustani is a talented periodontist. Together, they work to ensure that every iSmile Dental Associates patient's dental implant procedure is fast, easy, and relatively pain-free.
Dental implants have revolutionized dentistry. Now patients with broken or missing teeth can have them replaced with implants that are as good if not better than the original! Although this procedure has become quick and painless for most patients, it is important to remember that it is still dental surgery that requires a high degree of skill and expertise. We believe you should insist on an exceptional dental surgeon such as Dr. Sirakian when opting for dental implants.
Click here for detailed information about dental implants.
For information or to schedule an appointment, call (978) 666-4318, or schedule online by clicking here.