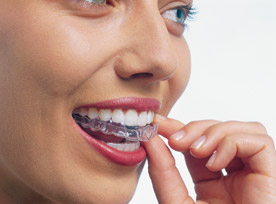 See our Invisalign Special Offer
iSmile Dental Associates at the Northshore Mall in Peabody is excited to offer Invisalign by one of our certified Invisalign Doctors.
Invisalign invisible braces are the latest advancement in orthodontics. Instead of the ugly metal braces of old, the Invisalign system straightens your teeth using a series of clear, virtually invisible custom-molded removable aligners that are changed every two weeks to move your teeth into straighter position step by step. The course of treatment typically takes about a year.
Since Invisalign aligners are practically invisible, very few people will even know you're wearing them. Plus, they're comfortable to wear and remove easily for eating, brushing and flossing.
Make an appointment with an Invisalign invisible braces dentist today at 978-666-4318 or schedule online by clicking here to see if Invisalign braces are right for you. That gorgeous smile could be just a phone call away!