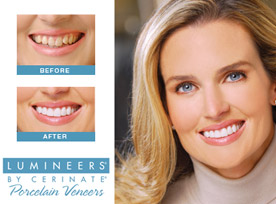 At iSmile Dental Associates at the Northshore Mall in Peabody, we are pleased to offer our patients Lumineers...a ground-breaking cosmetic solution for permanently stained, chipped, discolored and misaligned teeth, and for revitalizing old crowns and bridgework.
Made from patented Cerinate porcelain, Lumineers are porcelain veneers that can be made as thin as a contact lens and placed over existing teeth without requiring possibly painful removal of sensitive tooth structure. In just two or three virtually pain-free appointments, Lumineers can provide you with a custom-made smile clinically proven to last up to 20 years!
At iSmile Dental Associates, you can always be assured of working with the best. Our three Lumineer-trained dentists include Dr. Aram Sirakian, well-known prosthodontist and cosmetic dentist.
If you are interested in great cosmetic dentistry but cost is a consideration, at iSmile Dental Associates we can often arrange dental financing to meet your needs. Make an appointment with us today at (978) 666-4318 or schedule online by clicking here.