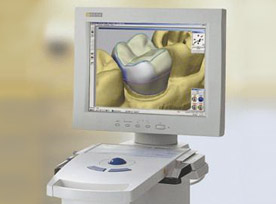 Northshore Dental Professionals is pleased to offer CEREC ceramic dental restoration by Sirona Dental Systems at our practice in the Northshore Mall in Peabody. CEREC is the world's only system for the fabrication of all permanent ceramic dental restorations...including ceramic crowns, onlays, and veneers...in just one office visit! This means fewer injections, less drilling, and less time out of your busy schedule.
With the CEREC system, your dentist uses strong, tooth-colored ceramic materials to restore your teeth to their natural strength, beauty and function. These materials closely match the composition of the natural tooth structure. And because they chemically bond to your tooth, your dentist can save as much healthy tooth tissue as possible while providing you with a dental restoration that strengthens your tooth.
To talk to one of our dentists about single-visit CEREC restorative care or to schedule an appointment, call (978) 666-4318. Schedule an appointment online by clicking here.