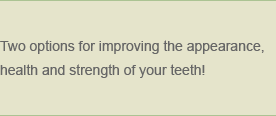 When the entire surface of a tooth is a problem, but the root system is intact, a dental crown might be necessary. Dental bridges replace missing teeth by "bridging" the gap between two remaining teeth. After a thorough exam, our expert general dentists will evaluate your crown or bridge needs and explain your options.
Crowns
Root canals, lost fillings, decay below a filling, and chipped or cracked tooth enamel can all weaken teeth to where they are no longer structurally sound and appear unsightly. Your dentist may recommend crowns to protect or strengthen your weakened teeth or to restore a disfigured tooth to its original shape.
Dental crowns (also known as dental caps) cover the entire damaged or discolored tooth, starting at the gum line. Along with a cosmetic effect, crowns strengthen teeth by binding the sides of the weakened tooth together, much the way a splint holds together a broken bone, and are often used in cases where teeth might break.
Bridges
Unfilled spaces between teeth can put your other teeth and your gums at greater risk for tooth decay and gum disease. If you have missing teeth but practice good oral hygiene, a dental bridge could be an excellent option for you. Bridges are natural in appearance and usually require only two visits to your dentist. With regular care, your fixed bridge may last up to ten years or more.
There are two kinds of bridges: traditional and resin-bonded. With traditional bridges, your dentist creates a pontic, or false, tooth with a dental crown on either side. The crowns are then fitted over the remaining teeth to hold the false tooth in place. With resin-bonded bridges, the pontic tooth is fused to a metal band. This is then bonded to the back of the remaining teeth with white resin cement.
For information or to schedule an appointment, call (978) 666-4318, or schedule online by clicking here.