Aram Sirakian, DMD, MMSc Prosthodontist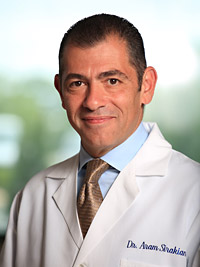 Dr. Aram Sirakian, a renowned specialist in implant dentistry and prosthodontics, was among the first surgically trained prosthodontists in New England. For the past 12 years, he has worked with some of the area's most prestigious specialty practices, creating healthy, beautiful smiles through a combination of cosmetic and implant dentistry.
Dr. Sirakian also devotes time and energy supporting outreach organizations whose mission is to build and fund dental clinics in third-world countries.
Specialties:
Prosthodontics
Implant dentistry
Advanced cosmetic dentistry
Sedation dentistry
Education
Harvard University School of Dental Medicine - Prosthodontics specialty training
Harvard Faculty of Medicine - Masters of Medical Science (MMSc)
Brookdale Hospital Medical Center, New York, NY - Two-year fellowship in Oral Implantology and Biomaterials
Tufts University School of Dental Medicine - DMD
Affiliations and Publications
Dr. Sirakian publishes regularly in leading dental journals, lectures internationally, and served for a decade on the Journal of Oral Implantology's editorial board. He is a faculty member of the postdoctoral program in prosthodontics at Boston University and holds active memberships in numerous professional organizations, including the Academy of Osseointegration and the American Academy of Fixed Prosthodontics. He has served as president of both the American College of Prosthodontists (MA) and the Academy of Dental Science.