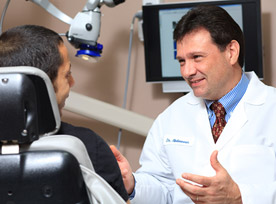 We want to be your family's dental health care team!
Families from Peabody, Danvers, Beverly, Lynnfield and throughout the Northshore have switched to iSmile Dental Associates for our unique team approach to dental care. At iSmile Dental Associates, you have access to general dentists for routine dental needs as well as specialists who include an endodontist, periodontist, orthodontist and dental implant surgeons...all under one roof.
Should an issue arise in the course of your routine dental care, our general dentists are able to consult with team specialists on the spot. This gives you the option of faster diagnosis and treatment, delivered by colleagues in one convenient location, rather than having to be referred to another practice.
Click on the links below to learn more about the iSmile Dental Associates philosophy of care and our wide range of treatment options. Or feel free to stop by our offices anytime at the Northshore Mall in Peabody to meet our dentists and staff and discover all the ways we have to make you smile!
For more information or to schedule an appointment, call (978) 666-4318, or schedule online by clicking here.