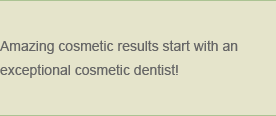 There are many dentists who promote themselves as cosmetic dentists. However, did you know that some of them actually have little or no cosmetic training?
At iSmile Dental Associates, we believe that, when it comes to your smile, you owe it to yourself to work with only the most highly qualified cosmetic dentists. Our patients travel from Salem, Danvers, Beverly, all around the Northshore and even Boston to experience state-of-the-art cosmetic dentistry from some of the area's very best dental experts.
iSmile Dental Associates' Dr. Aram Sirakian is a renowned specialist in prosthodontics and implant dentistry. Although most dentists receive about four years of dental training, Dr. Sirakian has nine years of formal training and hundreds of hours of advanced training.
Learn more about iSmile Dental Associates' wide range of cosmetic dentistry services by clicking on the links below:
For information or to schedule an appointment, call (978) 666-4318, or schedule online by clicking here.